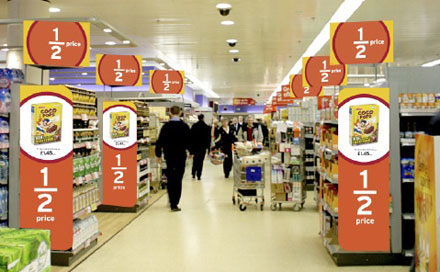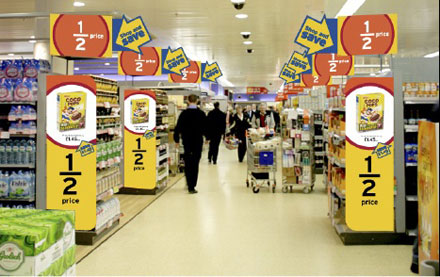 Sainsbury's 'value point-of-sale' simply wasn't standing out. As a result, Sainsbury's weren't getting credit for the value they offered their customers.
Lambie-Nairn were tasked with developing a new 'in-store value communication' to change price perceptions and drive sales during the recession. Knowing that shoppers only spend 5% of their time looking at in-store materials, Lambie-Nairn produced a range of new materials using strong primary colours of red and yellow. They also introduced a version of 'the roundel'. Employing these widely-recognised signifiers in unique combination, the agency created a 'value aisle' quite different to any other in-store or competitor execution.
Positioned at shelf-edge to achieve maximum visibility, the new materials were refreshed throughout the year. This created a sense of change and encouraged shoppers to 'rediscover value'. As a result, consumer value awareness and satisfaction went up; sales increased, and many customers now incorporate the value aisle into their shopping trips.