Hartridges
CLIENT:
Hartridges Limited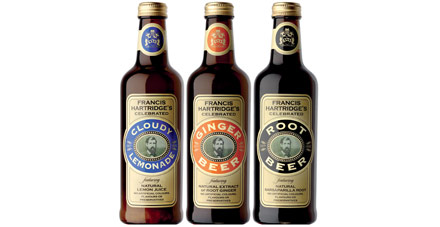 For many years Hartridges' core output was on-trade mixers and fruit juices. As part of their growth strategy the owners sought expansion into the retail sector, which is how the Celebrated Range came into being.
The Paul Martin Design Company were appointed to create a design for the new range. They responded with a classic identity which positioned the products as reassuringly familiar, despite being new. Nostalgic without being stuffy, the design drew on classic soft drink styles and the strong traditions of the Hartridge family. It reflects the integrity and honesty of the proposition, and also includes the last surviving photo of company founder, Francis Hartridge.
Offering personality and strong shelf presence, the Celebrated Range broke into overseas markets – a first for Hartridges – within six weeks of being launched. It became listed by Morrisons and JD Wetherspoon and was on course to achieve sales of £300,000 in the first 12 months.